Graham Reid | | <1 min read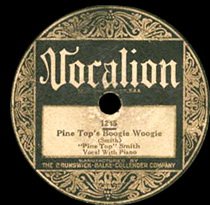 Aside from this being considered one of the first, if not the first, reference to "boogie woogie", there are a number of other interesting things about this recording by the pianist Clarence Smith.
It was recorded in Chicago on December 29, 1928 and just three months later he was accidentally killed when hit by a stray bullet in Chicago's Masonic Hall -- which tells you that they were wild and crazy days, even in a freemason's hall.
Also Smith uses the phrase "boogie-woogie" as a verb, not a noun as is most common these days.
This was party music and Smith -- who died at age 24 and left no photograph of himself -- wasn't around long enough to enjoy it. But after his death his few recordings -- just a dozen or so -- were rediscoverd and he was hailed as a pioneer of the style.
This piece was much admired and covered down the decades, not the least by Pinetop Perkins in the Fifties who many think wrote it.
The original was credited to Smith but sometimes to "Smith/Gimble".
For more oddities, one-offs or songs with an interesting backstory use the RSS feed to get your daily update From the Vaults.