Graham Reid | | 1 min read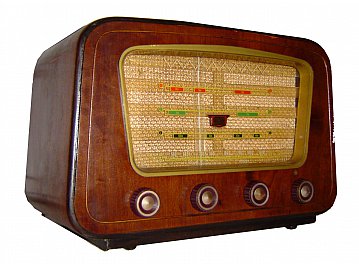 It seems peculiar to state the obvious, but there is at least one generation which may not know this: before television people listened to radio.
And not just for music and news, radio was the home of drama and for decades people tuned in to hear the on-going melodramatics of Britains' The Archers (which started in 1950 and still runs today), the Australian comedy show Life with Dexter, the rather more racy Randy Stone who was the tough newspaperman on the radio-noir Night Beat, the dark doings of The Shadow . . .
And these two long-runnings series, Portia Faces Life and Doctor Paul.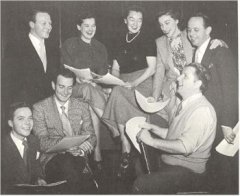 The American programme Portia Faces Life began in the Forties and continued for well over a decade, and Doctor Paul out of Australia (cast and prduction crew pictured, Alan White as Doctor Paul Cabot top left) started in the Fifties and ran on through the early Sixties.
Both of these were regular features on New Zealand's national morning show. (Randy Stone followed Life with Dexter at night.)
Of course when you listen to these "dramas" now they sound astonishingly tame and although sometimes the silence can say so much, often it was just . . . silence.
Thank Heaven television came along with much more steamy stuff, like Peyton Place (which of course now also looks tame too).