Graham Reid | | 1 min read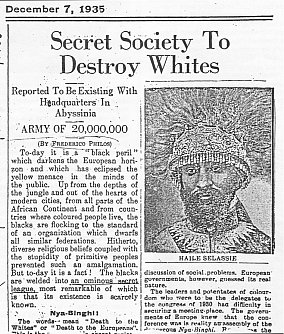 In 1935, just before the Italian invasion of Ethiopia, an article apeared in the Jamaica Times -- penned by an Italian fascist propoganda outfit -- which alleged that Ethiopia's Haile Selassie was the head of a secret organisation which was plotting to overthrow and kill whites.
This alarmist article about the "Nyabingi Order" (the name allegedly meant "death to whites") had an unexpected consequence: many Rastafarians in Trenchtown took the article literally (although with their own skew) and sought to enlist in their Emperor's Nyabinghi movement.
Subject to harrassment for their dreadlocks and sacramental smoking of marijuana, some Rastafarians began identifying themselves as Nyabingi (sometimes spelled Nyabinghi) and began particular ceremonies, notably the grounation during which, at a large gathering, the chalice (of marijuana) is passed hand to hand, religious reasoning (discussion) takes place and there are chants and drumming.
The distinctive drumming -- three main drums including the repeater -- comes from the African tradition and was adopted by the back-to-Africa/Garveyite Rastafarians for these ceremonies, and thereafter the repeater drum started to appear in reggae music.
This ceremony was recorded at a grounation held in 1982 when Ronald Reagan visited Jamaica for seven days. The Nyabingi -- and many Rastafarians -- read much into the number of letters in Reagan's full name: Ronald Wilson Reagan.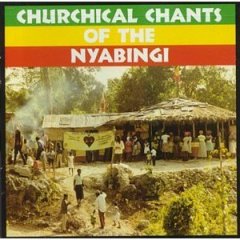 Six letters in each = 666.
They also didn't rate the Pope much of course, and in this piece they chant down the Pope and Reagan: "When Jah gets ready you've got to move, Dirty Pope Paul have to move, Reagan have to move, I'm have to move, When Sellasie I get ready, I'm have to move . . ."
This was the first time a grounation ceremony had been recorded (in a camp in Cockpit Country).
It appeared on the album Churchical Chants of the Nyabinghi.
For more oddities, one-offs or songs with an interesting backstory get daily updates From the Vaults.