Graham Reid | | 1 min read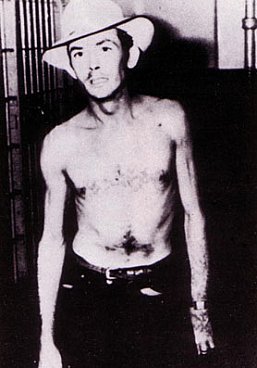 Any number of country artists have lined up to pay tribute to the great Hank Williams whose career was cut short in 1952 at age 29 when he was found dead in the back of his car through a combination of drugs, alcohol and his lifestyle.
In six short years Williams wrote songs which went from hoe-down party music (Jambalaya, Hey Good Lookin') to deep melancholy (Cold Cold Heart, Your Cheatin' Heart). Little wonder then his songs have become such a touchstone in country music.
But one of the more unusual, certainly unexpected, tribute albums came in the form of Hanky Panky by The The, a band which was a post-punk vehicle for UK singer-songwriter Matt Johnson whose Soul Mining debut album (as The The) of '83 sprung some minor classics in This is the Day, Uncertain Smile and Perfect.
A decade later with a very different band again, Johnson went into the studio for what was an obviously genuine tribute to Williams -- and not just the songs but the spirit of the man which was often plagued with demons.
As Johnson said in his liner notes, "Though not a formally educated man, Williams was articulate in the language of the heart and one senses a weird kind of alchemy at work as he transformed pure, undiluted pain into simple songs of such profound truth and beauty that they touched and uplifted (and continue to touch and uplift) the souls of millions".
On this version of a Williams' classic, Johnson and the band offer a disturbed treatment and drag this closer to what U2 in their Achtung Baby/Zooropa period -- or Nick Cave and the Bad Seeds -- might have done with it.
For more oddities, one-offs or songs with an interesting backstory check the daily updates at From the Vaults.