Graham Reid | | <1 min read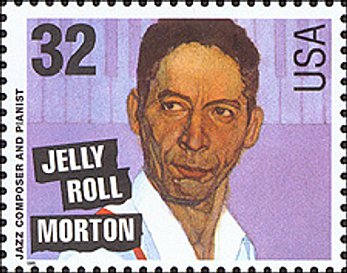 The origins of jazz are lost in the mists and of course few would be so bold as to say it started on any particular date. One who did however was pianist Jelly Roll Morton who claimed to have invented jazz and was even happy to give a date when asked.
Morton was, like so many blues players at the time, not averse to borrowing and adapting from others then claiming them as his own -- something which is endemic in music anyway.
On this track he tells of how he wrote I'm Alabama Bound, but it is at the start of the spoken word section where you get a whiff of the man's arrogance and self-confidence.
Morton was a fascinating character who created a mythology about himself, but no one could deny how prolific and important he was as a composer, performer and populariser of jazz and blues . . . and he delivered a nice line in salacious, if not downright dirty, lyrics.
Whatever you make of him, he was one of a kind.
For more one-offs, oddities or songs with an interesting backstory check the daily updates From the Vaults.