Graham Reid | | 1 min read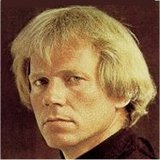 After his growling and apocalyptic version of PF Sloan's Eve of Destruction in '65 the former folkie Barry McGuire -- who had been in the New Christy Minstrels and had co-written their big hit Green Green -- was looking for new material to include on his second album.
Producer Lou Adler lined up a number of covers -- the Beatles' Yesterday and Dylanesque You've Got to Hide Your Love Away, the McCoy's Hang on Sloopy, the Lovin' Spoonful's Do You Believe in Magic? among them -- but also slipped him a song written by John and Michelle Phillips of his new signing The Mamas and the Papas.
To give the band some money Adler also had The Mamas and the Papas sing back-up.
Perhaps because his low growl was more suited to doomsday songs and earnest folk, McGuire's version just didn't cut it -- but it was a big step up for his backing group.
Adler got them into the studio with the famous Wrecking Crew (drummer Hal Blaine later said, "It was like a visit from the angels. We couldn't believe the sweet breathtaking harmonies") and using exactly the same backing track as on McGuire's version they cut California Dreamin' for their debut album If You Can Believe Your Eyes and Ears (which is how the enthusiastic Adler felt about them).
The single spent seven weeks in the US top 10 in advance of the album's release.
The Mamas and the Papas version is slightly different however: the lonely harmonica solo is replaced by a light flute part, and Denny Doherty sang it an octave higher. The combined effect was a song full of wistfulness with a slightly dreamy, wishful quality.
It was, after all, a song about longing to be in California by someone in cold New York.
Incidentally in McGuire's version however you do hear in a more pronounced way the most misheard line in the song. Many think it is "got down on my knees and began to pray"
It is actually "got down on my knees and pretend to pray".
As John Phillips explained later, "They're going into church to seek shelter from the cold".
McGuire's chart career was finished at the time the Mamas and the Papas was just starting, although he had a long career in writing and singing Christian music and lived in New Zealand for a while.
I met him in the staff room of Penrose High School in the very early Seventies where he'd come to sing and talk to students. He was a genuinely nice guy.
But seven years from chart topping to the tea room?
For more oddities, one-offs or songs with an interesting backstory use the RSS feed for daily updates From the Vaults.