Graham Reid | | <1 min read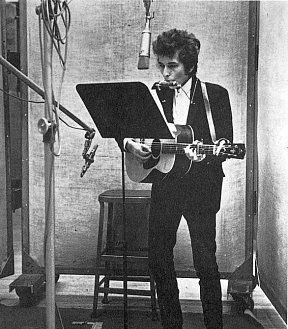 Although things would come to a literal grinding halt in mid '66 when he was tumbled from his motorcycle -- and he used the break to recover from emotional exhaustion after his lightspeed career of the previous four years -- in '65 Bob Dylan was still enjoying his position as the man who was taking folk and smart words into rock.
During the sessions for what would become the Highway 61 Revisited album, he knocked off this little thing in the studio. Just a throwaway but kinda witty . . . and which lead to a whole other thing entirely.
Al Kooper explains: "The songs changed all the time. We would try different tempos, he would try other words. Most of the songs had different titles. It was a long time, for example, before I realised It Takes A Lot To Laugh, It Takes A Train to Cry was not called Phantom Engineer".
And this fragment -- which was on the Biograph box set of '85, the first box set in rock -- was the original version of the very different Tombstone Blues.
For more one-offs, oddities and songs with an interesting backstory get the regular updates From the Vaults by using the RSS feed. And there is a lot of Bob Dylan at Elsewhere, start here.