Graham Reid | | <1 min read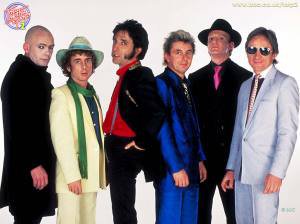 Songs by the Rolling Stones have suffered a number of indignities -- usually when an orchestra is involved -- but few have been made over in a humorous way, as was done by this British a cappella outfit in the early Eighties which enjoyed a number one Christmas single in '83 with their version of Yazoo's Only You.
The group -- mostly theatre and stage singers -- took their name from the angry wedge of demonstrators during Britain's miner's strike . . . which the band supported.
Certainly their overt political position hampered their career, but mostly they came undone because of serial line-up changes around the founding core of David Brett and Brian Hibbert. When Brett, the sole original member, quit in '90 that was it.
But not quite.
There was a reunion of sorts, and then later another group of the same name appeared and hit the touring circuit to conspicuously less chart success. They are still out there today.
But it is the original ensemble -- which dressed like early Roxy Music and sang like the Platters-gone-Broadway, but with British humour -- you should be seeking out in bargain bins.
Which is where I found their EP of Only You which includes a version of Summertime, and their original Disco Down. And this.
Enjoy, or endure if you loved the Stones' 65 original.
.
For more oddities, one-offs or songs with an interesting backstory check From the Vaults.