Graham Reid | | 1 min read
Because they are often offered the temptations of the flesh, musicians will inevitably write and sing about it. There are a lot of songs about sex, some of them rather coded.
There's also a decent sized sub-genre of songs about the temptations of very young flesh. The Lovin' Spoonful's John Sebastian weighed in with the beautifully dreamy Younger Girl and you could draw a straight line from there through Gary Puckett and the Union Gap to Sting's Don't Stand So Close To Me for the Police in which a young teacher is uncomfortable with the attention a student is giving him.
(Sort of the flipside to Doris Day's '58 hit Teacher's Pet here? And check out Mamie Van Doren from the same movie here.)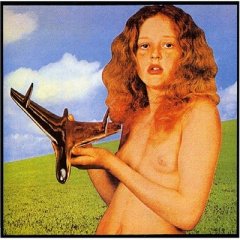 Such songs are often controversial and Blind Faith courted even greater outrage from some quarters when they put a very young girl on the cover of their sole album in '68.
In some countries -- New Zealand among them -- the original cover (left) was changed to just a photo of the band.
Gary Puckett and the Union Gap however took Young Girl to the top of the US charts and they went on to play, rather weirdly, at Disneyland.
Hmmm.
Later they also recorded This Girl is a Woman Now.
So that would be a double . . . hmmm.
Young Girl was in fact written by producer/writer Jerry Fuller who had discovered the band, signed them to Columbia and wrote their first hit Woman Woman ("have you got cheating on your mind?") He also wrote Lady Willpower for them, another big hit.
In fact when it came to writing hits Fuller was up there with the best of his era: Travelin' Man for Ricky Nelson; the garageband classic Lies for the Knickerbockers; Show and Tell for Al Wilson . . .
He was also a producer of some note. He produced for Puckett and the Gap, O.C. Smith (The Son of Hickory Holler's Tramp), Mac Davis . . .
He also spent a brief time in a band -- The Champs -- with Jimmy Seals and Dash Croft (who became Seals and Croft) and Glen Campbell.
Maybe it was when he was on the road he got the idea for Young Girl?
Hmmm.
For more oddities, one-offs or songs with an interesting backstory use the RSS feed for daily updates, and check the massive back-catalogue at From the Vaults.