Graham Reid | | <1 min read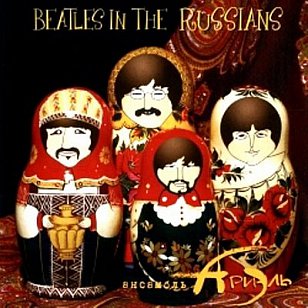 Another track from the often hilarious and sometimes worrying Plastic Soul Vol 4 album which is a compilation of mad Beatles covers, many from Russia.

Ariel weigh in with two entries, A Little Help From My Friends and this tempo-challenging stab at Yellow Submarine which ends up waltzing down the Danube.

The band – which these days seems to consist of five staid middle-aged men in suits – formed in '67 and were originally a garage band. Later they turned to folk songs and won a number of awards.

But perhaps their true calling is to be found on their awkwardly entitled 14th album "Beatles in the Russians" from which this track is lifted.

Genius in it own way. (Not at all, actually)

NB: Check out this doco on Exotica Records which has released these weird Beatles compilations and other wacky stuff in often laugh-aloud covers. And go here for more on Yellow Submarine.
For more oddities, one-offs or songs with an interesting backstory use the RSS feed for daily updates, and check the massive back-catalogue at From the Vaults.