Graham Reid | | 1 min read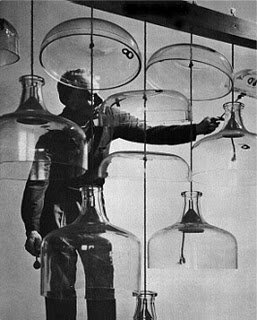 When Tom Waits swerved left from his barroom piano ballads and into using new or found sounds on his clank'n'grind albums in the mid Eighties, he was hailed as an innovator . . . but conspiciously few followed him down that path.
These days albums where musicians use unusual instruments are increasingly common and any number will name-check American composer/instrument builder and musical eccentric Harry Partch. (Longtime fan Beck released a track called Harry Partch on his website.)
Partch was an interesting character who came to music through his own path. He'd grown up in small towns in Arizona and New Mexico, taught himself music and during the Depression he decided music needed to free itself of the shackles of the European classical tradition. As with the Dadaists after World War I, he saw that the codes and accepted ways of the old world had failed.
He burned everything he had written up to that point and set out on his own direction adopting a whole new notation and scale system, building his own instruments and battling to have his music and approach accepted.
He died in '74 and after his death his influence seemed to gain momentum, notably through the agency of people like Waits and the Harry Partch Foundation in San Diego. These days it isn't hard to get Partch recordings and you can play some of Partch's instruments on-line and and hear him explain them here .
There are also plenty of websites dedicated to odd instruments (like this one). Or you could just do what Harry did, make your own -- and your own noise.
For more oddities, one-offs or songs with an interesting backstory use the RSS feed for daily updates, and check the massive back-catalogue at From the Vaults.