Graham Reid | | 1 min read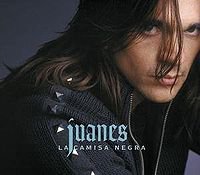 Unless you follow Latin pop then La Camisa Negra/The Black Shirt might be the biggest hit you never heard by a global star don't even known about.
Juanes from Colombia has sold 15 million albums, won 17 Latin Grammy awards and one Grammy.
The album Mi Sangre (My Blood) which included La Camisa Negra (The Black Shirt) debuted at number one on the Latin Billboard charts, held that position for six months and sprung three hits singles . . . .
This song performed well Europe, topping the charts in Austria, France, Germany, Spain, Switzerland, Belgium, Finland, Ireland, the Netherlands and Norway. The single was certified gold in Switzerland and it is one of the Top 10 singles in that country's history.
The song wasn't without controversy either: "the black shirt" conjured up images of fascism in Italy (Mussolini's thugs were known as Black Shirts for the clothes they wore) and the neo-fascists there responded with salutes when it was played in clubs.
On the other side, the song -- which was greeted with indifference by some critics who preferred Juanes' more upbeat and hip-swivel pop -- was banned in the Dominican Republic for its sexual suggestion. (The line about "drinking you poisonous love" perhaps? Or the one where he says he almost lost his bed?).
Essentially the song says Juanes is wearing a black shirt to symbolise the death of their love and by extension his own emotional death.
All to a hypnotic rhythm on acoustic guitar which took it to the charts around the world. Except in the US where it only reached number 89 on the Billboard charts -- and it didn't get played in New Zealand . . . outside of the few occasions when I did in the hope of showing what many in the rest of the planet were enjoying.
For more oddities, one-offs or songs with an interesting backstory use the RSS feed for daily updates, and check the massive back-catalogue at From the Vaults.