Graham Reid | | 1 min read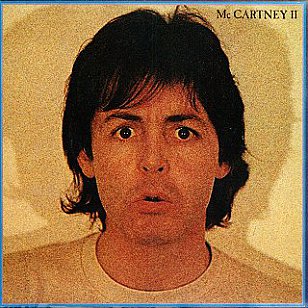 In the Seventies Paul McCartney enjoyed a remarkable revival of fortunes -- at the start of the decade the Beatles broke up, he released a couple of feet-finding solo albums, got the band Wings together and did a lowkey tour of the UK, delivered Band on the Run, conquered America and the rest of the world with hits singles then witnesed Wings slowly decline.
In 1980 he went into a small home studio for a mess around just to take a break from serious recording and knowing that Wings had its course..
Out of that period came some singles (Coming Up, Temporary Secretary, Waterfalls) and the album McCartney II, the title which suggested it was the sequel to his 1970 album which was similarly a collection of studio fragments and a few proper songs.
But by 1980 McCartney was much more confident and prepared to take a few chances.
On the flipside of the 12" version of Temporary Secretary he had a 10 minute piece which seemed, in retrospect, to anticipate some of quasi-ambient work with Youth as The Fireman. Check it out here, it is one of the added tracks on the McCartney II reissue.
And that album had a few instrumental oddities (Frozen Jap) alongside cheap rock'n'roll (On the Way, Nobody Knows) and of course the lovely Waterfalls.

And Check My Machine.
Make of it what you will, but it is some way from Silly Love Songs.
For an overview of McCartney's diverse and extensive solo career start here.
For more oddities, one-offs or songs with an interesting backstory use the RSS feed for daily updates, and check the massive back-catalogue at From the Vaults.