Graham Reid | | 1 min read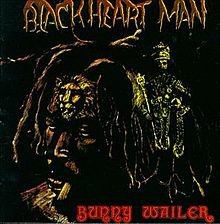 As Bob Marley was advancing a more light-filled, if still serious, face of Rastafarianism into the world, it fell to deep roots groups like Culture, the great Burning Spear and Bob's old bandmate in the original Wailers, Bunny Livingston (aka Bunny Wailer) to deliver the darker and deeper themes.
The mighty Spear sang as if he had just been freed from the shackles of slavery in a voice like Joshua commanding the sun to stand still.
And on his exceptional album Blackheart Man, Bunny -- with the help of Bob and his Wailers band -- reminded the global audience which Marley was gathering that Rastafarianism was an outsider's faith (the Blackheart Man mothers warn their children about), that the Old Testatment was a living document and the oppressed would overcome.
And just as Burning Spear felt slavery was in the immediate past, Bunny Wailer on this song -- which is almost a spoken word piece -- told you the end of days was just around the corner. You just had to look around to see the signs.
At the time, for Rastafarians it was.
The famous "two-sevens clash" (7-7-1977) was looming, the day on which there would be global chaos as predicted by Marcus Garvey. It was the Biblical Armageddon of the Book of Revelations, or Amagideon/Armagedon as Bunny Wailer had it.
Yet, as the closing passages of this song -- which takes you back to first days, through current times of woe then to the day of judgment -- illustrate, this was not a day on which the faithful, "them who hunger after righteousness", should be fearful.
In a voice filled with compassion, and relief that the end of tribulation has come, he sings right at the end, "The night is passed, the day is done, I see Jah shining in the shining sun".
For more oddities, one-offs or songs with an interesting backstory check the massive back-catalogue at From the Vaults.