Graham Reid | | <1 min read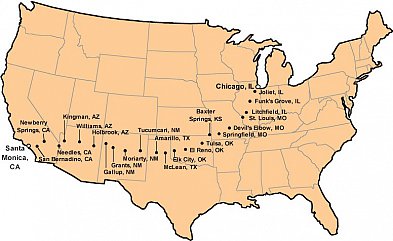 In the hands of Chuck Berry and the Rolling Stones, Route 66 became a classic rock song -- but its history goes further back and the song has been rendered in the styles of earlier eras. And later one too.
Written in '46 by jazz pianist Bobby Troup -- who said he penned it after making the trip, got the chorus quickly but couldn't think of enough words so just put in the place names -- the song became his best known work, but he'd already had material covered by Glenn Miller and Frank Sinatra.
It captured the spirit of post-war America when cars with big fins and the freedom of the highway were emblematic of a country stretching itself. The first act to cover it was the Nat King Cole Trio who had a huge hit with it, but most artists -- Cole, Berry, the Stones included -- don't sing the full version.
One of the few who did was Perry Como in '59 who included Troup's intro and the second verse, and delivered it in a cool, swinging, cocktail lounge style.
Good though it is, you don't get the impression Como was going to get Kerouac'n'carefree and hit the highway, maybe just go as far as the bar for another highball.
Still, here is the complete Route 66 for your finger-snapping pleasure.
For more oddities, one-offs or songs with an interesting backstory use the RSS feed for daily updates, and check the massive back-catalogue at From the Vaults.