Graham Reid | | 1 min read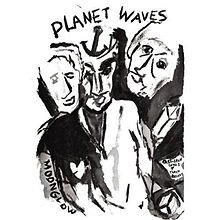 While flicking the pages of a rock magazine the other day I came on an interview with a young musician who cited among his current favourite listening Bob Dylan's Planet Waves.
When that album was released it was met with polite but hardly laudatory reviews, and even the enormously successful and highly profitable tour with the Band (Dylan's first since '66 during which many of the albums songs were featured) didn't push along sales. At the end of '74, despite it topping the charts on advance orders, it had barely sold 600,000 copies in the US, an alarmingly small figure given applications had been received for around 10 million concert tickets which showed "an explosion of feeling" towards Dylan, as Playboy wrote in its review of this album.
But at this distance it is understandable why a young musician might find the album more interesting than it seemed for those who were there for Highway 61, Blonde on Blonde and John Wesley Harding.
The songs are spare and taut, melodically interesting with sometimes angular arrangements, and many offer flashes of the deeply personal. Some are dark, others -- like the hugely popular Forever Young -- seem sentimental, warm and domestic. It is an album where a relationship (Dylan was separating from his wife Sara) is sometimes being viewed through a fractured prism.
Dirge is a difficult and uncomfortable song, seen in the light of that marriage breakdown.
It is, according to Clinton Heylin, "an astonishing catharsis of years of seething resentment, seemingly directed at an ex-lover but surely one of that small body of songs in his oeuvre directed as much at his audience as some disembodied lover".
Heylin puts it alongside It Ain't Me Babe and What Was it That You Wanted in that regard . . . and he might have mentioned Positively 4th Street and even Like a Rolling Stone also.
Dylan, playing piano, and Robbie Robertson on guitar nailed it on the second take. It was the last song to be recorded for the album.
Even though the context has faded and the circumstances which prompted it have disappeared into the fog of time, Dirge -- the name given to a song written for a funeral, lest we forget -- stands as one of Dyan's most commanding studio performances.
For more oddities, one-offs or songs with an interesting backstory use the RSS feed for daily updates, and check the massive back-catalogue at From the Vaults.