Graham Reid | | 1 min read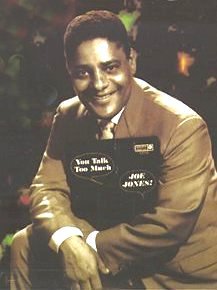 Sometimes there is an eloquence and directness in simplicity: "Wild thing, you make my heart sing . . ."
Hard to improve on that.
Or this blunt sentiment by Joe Jones, a rhythm and blues singer from New Orleans who once had the gall to claim he wrote the classic Iko Iko for the Dixie Cups whom he managed. Wasn't the first time Joe had been dragged into court for claiming he'd written a classic, but let's give him his due.
He did take this song onto the charts -- and didn't claim it as his own. It was actually written by Reggie Hall who was Fats Domino's brother-in-law, and when Fats turned it down Joe had the sense to pick it up. That was in '58, but the record did nothing.
Two year later he re-recorded it and it went into the top five in the US.
And although often written off as a novelty song, there's something slightly Jamaican dancehall and calypso about the great Harold Battiste's arrangement . . . and Joe's delivery is that of a worn-down man who is just, like, soooo over it.
Jeez, he's had to listen to this woman goin' on and on and on . . .
And of course (because that's what it was like on the charts in those days) there was an answer song: Martha Nelson (on the same label) weighed in with I Don't Talk Too Much.
Joe never had another hit but -- because he never saw proper money from his hit -- was a longtime advocate of artists' rights (there's an irony there, right?) and he died in '05 age 79.
You pity his poor wife Marion.
Anytime she started in on something, she must have known what Joe was thinking.
For more oddities, one-offs or songs with an interesting backstory use the RSS feed for daily updates, and check the massive back-catalogue at From the Vaults.