Graham Reid | | <1 min read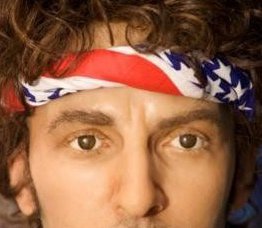 More correctly this should be attributed to "artist unknown" but this bent cover appeared on an SST album from the late Eighties of which I only have a test pressing.
Others on it are Revolution 409 doing the Osmonds' Crazy Horses, Celebrity Skin (Abba's SOS), I Love You (Burning' Love), Chemical People (It's Not Unusual) and so on.
The biggest names are Sonic Youth and Das Damen. And when Das Damen are a "big name" you know you are scraping around in the bottom of the cultdom bucket.
Anywhere here is someone Travis Bickle would want to be washed off the streets. And he'd probably be right.
I make no claims for this at all.
Nor, you hope, would the singer.
Any information on Brews Springsteen will be gratefully received -- and probably ignored.