Graham Reid | | <1 min read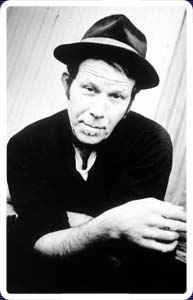 With a new Tom Waits album Bad As Me due in late October (his first studio album in seven years), it is timely to prime the pump with a little known item From the Vaults.
In 2007 at a concert in New York's Avery Fisher Hal in the Lincoln Centre, Waits and the Kronos Quartet joined a line-up which included Anoushka Shankar, the Gyoto Tantric Choir, Native American flute player R. Carlos Nakai and others to raise funds for the Tibetan Health Initiative.
You can imagine how seriously many took this Tibetan cause, especially given the Dalai Lama was present.
But Waits, in fairly typical fashion, opens with a couple of deflating one-liners and then delivers a song which has its own sense of holiness as you will hear.
This is from the album Healing the Divide.
For more on-offs or songs with an interesting back-story see From the Vaults.