Graham Reid | | 1 min read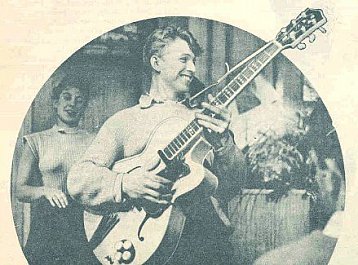 What You Tube allows us to see is how the Beatles in 1963 and early '64 -- as they were proving themselves and didn't quite have full career control -- were going down the same route as most British acts, that of being the "all round family entertainer".
By appearing on populist television shows (Morecambe and Wise etc) and doing panto-like things (mock Shakespeare, see clip below) it was the much-travelled path and the most recent role model Cliff Richard had pitched himself to families after kicking off with the terrific Move It rock'n'roll single.
Before Cliff, Tommy Steele was the biggest British star, arguably the first British star of the rock'n'roll era, and he too had done much the same.
A natural at it though, he really was the knockabout boy who could sing Cockney songs as much as skiffle and rock'n'roll.
Steele had no trouble moving from stage shows to screen and enjoyed a popular acclaim with movies like The Duke Wore Jeans and Tommy the Toreador (which followed him telling his own remarkable discovery in The Tommy Steele Story).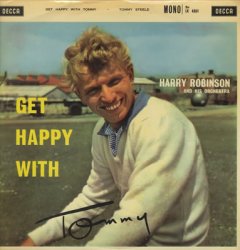 He was a naturally gifted comedian and so just before he went on tour to Australia in 1960 he knocked off yet another album, the live-in-the-studio Get Happy with Tommy Steele, on which he did everything from classy ballads to pop (Little Darlin' which he mucks about with) and light rock'n'roll.
He closed with a crowd-pleasing treatment of Shout which Ray Charles had made famous (Lulu, another British singer who became "all round family entertainer" would later cover it) and closed with Woody Guthrie's So Long ("it's been good to know you").
Along the way he also did this which became an instant radio favourite.
For obvious reasons.
It is very funny and in New Zealand the "all round family entertainer" Don Linden -- who had a massive mouth -- also did it regularly with great success.
Still stupid. Still funny . . . and at the time of writing Tommy Steele is still with us.
He will be 75 in December 2011.
For more on-offs or songs with an interesting back-story see From the Vaults