Graham Reid | | 1 min read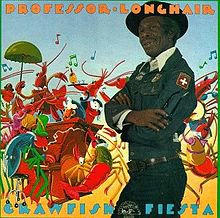 There are dozens of places you can start on a discovery of the genius of New Orleans' legendary pianist/arranger and songwriter Professor Longhair, the man Allen Toussaint called "the Bach of Rock".
Dr John said Longhair "put the funk into music, he's the father of the stuff" and producer Jerry Wexler acclaimed him as "a seminal force, a guru, the original creator of the New Orleans piano style . . . the teacher of all the great players like Fats Domino, Allen Toussaint, Mac Rebennack [aka Dr John], James Booker and Huey Smith".
Born Henry Roeland Byrd, he was soaked in the spirit of his city and he made his first record in '49 for Mercury (called Bald Head ironically) and then label-hopped for most of his career. By the early Sixties however this massively influential figure wasn't selling as well -- he started making a living as a card player, or just became a gambler depending on who you believe -- but Dr John and others ensured he got mainstream attention again by acknowledging him in interviews.
Some of his early material was reissued in the early Seventies, Paul McCartney had him play a party on the Queen Mary in '75 which was recorded and released to much fanfare, he started playing international jazz festivals and today it isn't hard to source his music.
Longhair died in early 1980 so the significance of the album Crawfish Fiesta (for Alligator) was that it was the last he recorded. But it was also a good one.
He had Dr John on guitar and a decent band, there's was a smart choice of material (his own but also by Big Jay McNeely and Walter Horton) . . . and it won the inaugural WC Handy Best Blues Album that year.
The great Professor never knew that of course, he died of a heart attack in January.
For more on-offs or songs with an interesting back-story see From the Vaults