Graham Reid | | 1 min read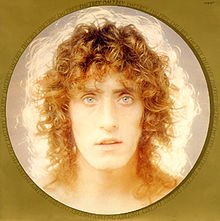 When the Who's Roger Daltrey went to make his first solo album in '73 he certainly made some interesting choices of collaborators, not the least being calling on Adam Faith as co-producer with Dave Courtney.
Faith had been one of those artists swept aside when the Beatles arrived, but he had always had great credibility because he wrote his own songs. When the hits stopped coming he moved into acting (he later appeared in Stardust as David Essex's unscrupulous manager) and management.
One of his early artists whose career he helped was the guy who co-wrote (with Courtney) most of the songs on Daltrey's self-titled solo album.
It seemed all a bit in-house (literally, much of the album was recorded in Daltrey's home studio) but the young songwriter would subsequently make his name as a solo act.
It was, somewhat improbably, Leo Sayer . . . who went on to become quite the pop star and enjoyed greater chart success than Daltrey did a solo act. In fact the opening track on the Daltrey album, One Man Band -- the short reprise recorded on the roof of the Beatles' Apple building -- became one of Sayer's biggest hits (see clip).
But this Sayer song by Daltrey from the vaults -- complete with vinyl pops for your listening pleasure -- was one which might have come from the Who's Quadrophenia of the same period with its reflective and melancholy mood, and sense of repressed drama.
For more oddities, one-offs or songs with an interesting backstory use the RSS feed for daily updates, and check the massive back-catalogue at From the Vaults.