Graham Reid | | <1 min read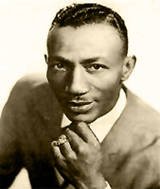 From regional hits then through increasing international success on the back of songs like Ya-Ya, Ride Your Pony and Working in a Coal Mine, Lee Dorsey -- a childhood friend of Fats Domino -- exported the sound of New Orleans.
He was produced by Allen Toussaint, had the Meters back him on albums and singles in the late Sixties (they are on this cut), and had a natural gift for putting the funk into soul, and vice-versa.
He was quite some guy too. When the hits stopped coming after some early success he just went back to repairing cars, it is alleged he fathered more than 30 children by various mothers, and in 1980 when his star had fallen he was invited to open for the Clash in the US.
And this minor hit enjoyed a second life when it was later covered by the Pointer Sisters . . . and more recently became a slogan for the Obama presidential campaign.
Lee Dorsey (1924-86) helped put Toussaint and the Meters into the wider world, and his terrific Working in a Coal Mine is a soul funk classic.
For more oddities, one-offs or songs with an interesting backstory use the RSS feed for daily updates, and check the massive back-catalogue at From the Vaults.