Graham Reid | | 1 min read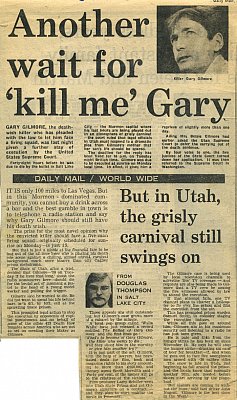 A noble entry in the "one-hit wonder" category, this punk era single by London's Adverts had all the key elements of the genre: short and buzzy, sounding just enough like the Damned et al to be recognisably punk, and also a subject matter that seemed to provoke.
Ironically for the Adverts this was almost their second "one hit wonder" because their first single was in fact One Chord Wonders (and they toyed with that as the band name briefly before becoming the Adverts).
But this one got them onto Top of the Pops (not exactly kosher for punk bands to appear there) and it has been much hailed down the decades for its sheer energy. But that was about it for the Adverts.
Their second album tanked, they changed members and some of them eventually got jobs although Tim TV Smith of the band has continued to release solo albums.
The content was timely and interesting in a B-grade horror movie way.
Gary Gilmore (brother of Rolling Stone writer Mikal) was a convicted killer in the US who shot to international prominence when he was sentenced to death in '76 and, over the protests of his lawyers and civil rights groups, refused to appeal and demanded to be put to death.
Finally in January 1977 he got his wish (by firing squad).
His last words were "Let's do it".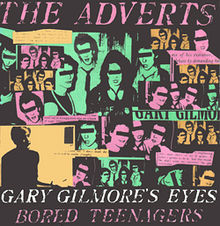 Gilmore didn't go away however because -- aside from this single -- he was also the subject of Norman Mailer's Pulitzer Prize winning novel The Executioner's Song two years later (which was adapated for a television movie starring Tommy Lee Jones as Gilmore).
Gilmore pops up all over popular culture in songs and on television (see clip below).
And in the Adverts' much acclaimed song his eyes look out at the world through a transplant.
Made for Hammer horror really, innit?
For more oddities, one-offs or songs with an interesting backstory use the RSS feed for daily updates, and check the massive back-catalogue at From the Vaults.