Graham Reid | | <1 min read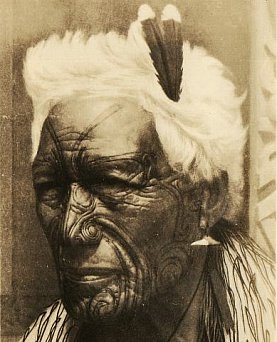 In the late Nineties, this song by Moana Maniapoto with her band the Moa Hunters was the Grand Jury Prize Winner in the International Songwriting Competition. It beat out over 11,000 other entries -- and, without hearing any of the others, we might say "rightly so".
It is a remarkable piece, not just in its low and powerful delivery by Moana and the haunting production by Simon Holloway, but for its timely message which contrasts European (and other) styles of tattoo with the Maori moko which is imbued with something much more deeply meaningful and culturally significant than a butterfly on your shoulder.
The spoken word at the start comes from Maori activist and artist Tame Iti, the low-slung groove hooks you in, and Moana's spoken word section is crystal clear in its delivery and meaning.
The refrain "Did you know that?" is a reminder of how important moko is . . . which might not be something you can say about the body markings people pick up on holiday in Bali or Thailand after a day in the sun and a night on the turps.
Not just an memorable piece of music, but an important one also.
For more oddities, one-offs or songs with an interesting backstory check the massive back-catalogue at From the Vaults.