Graham Reid | | 1 min read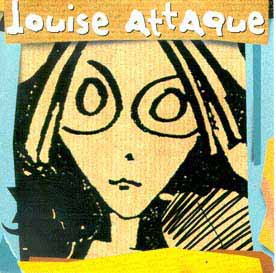 Louise Attaque were, for about five years from 1996, one of the most popular bands in France. Their self-titled debut album of '97 was widely hailed and went on to sell almost three million copies, which was an extraordinary figure in the French rock scene at the time.
With violin, a folk-rock drive and wry lyrics, they appealed to people who had perhaps grown up on the Clash and post-punk, as well as those for whom they simply sounded a bit different from the guitar bands.
They weren't quite as different to many American ears (aside from the tyranny of the language) because you didn't have to listen too hard to find a reference point . . . and in case you didn't get it the band's name made it reasonably easy.
Louise Attaque translated loosely to "violent women" and from there it is a short step sideways into French for "violent femmes" -- and indeed some tracks on that debut album certainly brought to mind that US band which had been an inspiration.
And if all of that went past you then in the fine print credting the producer ("Realise par . . .") was the name Gordon Gano, the guitarist/multi-instrumentalist in Violent Femmes.
Gano stuck around to produce their second album also (Comme On A Dit in 2000) but the band broke up shortly after . . . although they did reform two years later and record another album which again showed their Americophile tendencies when it came to naming things.
That album was A Plus Tard Crocidile.
In other words, See You Later, Alligator.
For more oddities, one-offs or songs with an interesting backstory use the RSS feed for daily updates, and check the massive back-catalogue at From the Vaults.