Graham Reid | | <1 min read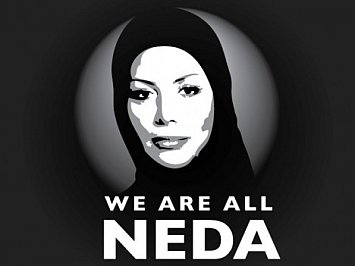 So, what are the first words which come to mind when you hear the word "Iran"?
Probably not hip-hop, heavy metal, folk-rock or blues.
Or Pink Floyd, as in this piece by the Iranian band Flow.
This tribute is to the 26-year old music student Neda Agha-Soltan who was killed in student demonstrations in Tehran during June 2009 and became a symbol of resistance for young, disaffected Iranians. (Warning, some of the footage in the video is graphic.)
She has been the subject of many song tributes, internet campaigns and posters.
The lyrics in this song may seem a little unsophisticated to some, but their virtue lies in their directness.
If you are interested in hearing more from contemporary Iran check out the rip-hop of Mute Agency, heavy metallers Soog, and punk-meets-jazz band Gachpaj.
And for Iranian pop and rock from the pre-revolutionary period see this excellent collection.
.
For more oddities, one-offs or songs with an interesting backstory check the massive back-catalogue at From the Vaults.