Graham Reid | | <1 min read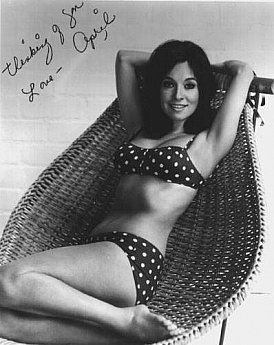 Singer April Stevens found great fame when she teamed up with her brother, the producer/writer/singer Nino Tempo for their early Sixties hit Deep Purple.
But before that she had briefly enjoyed a solo career in the early Fifties until her married lover decided he didn't like to see her in the spotlight. When the relationship foundered in the late Fifties however she began something of a comeback.
Teaming up with producer/mentor Henry Rene, she cracked the sultry, but minor hit, Teach Me Tiger and . . .
In those days you didn't break a working template and so she followed it up with this feline piece of seduction . . . written by her brother.
This is taken from the excellent collection Hey Baby! The Nino Tempo and April Stevens Anthology which is chock full of interesting and sometimes unusual songs by this brother and sister team from the city of Niagara Falls.
They don't write songs like this anymore, huh?
Or have promo shots like this one.
For more oddities, one-offs or songs with an interesting backstory use the RSS feed for daily updates, and check the massive back-catalogue at From the Vaults.