Graham Reid | | <1 min read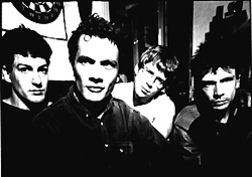 With Leonard Cohen much on our mind again with his new album Old Ideas, it was time to go to the vaults to find this version of his classic, as done by New Zealand's Straijacket Fits.
This treatment appeared on their Hail album (and was on the flipside of the Hail 12"), and was the line-up which many considered the most musically interesting, with guitarist-singer-writer Andrew Brough alongside Shayne Carter.
The popular and critical consensus was that Brough brought some folk-rock sweetness to the band alongside Carter's more vinegar-flavoured indie.rock tendencies. Maybe, maybe not. If the similar McCartney Vs Lennon divide doesn't always fall so easily in the Beatles, it's fair to say it also doesn't with Brough/Carter.
But at the time, this line-up of Straitjacket Fits -- with drummer John Collie who contributed their distinctive cover art, and bassist Dave Wood -- was the one which everyone agreed was a world beating combination.
After Brough left in '92 (and formed the short-lived, one album outfit Bike), Straitjackets took on a very different complexion.
You couldn't imagine the Broughless line-up doing a Leonard Cohen song.
(Incidentally, the backing vocals here are by Jan Hellriegel.)
For more oddities, one-offs or songs with an interesting backstory use the RSS feed for daily updates, and check the massive back-catalogue at From the Vaults.