Graham Reid | | <1 min read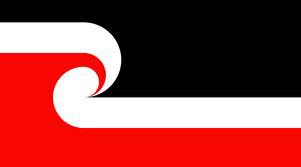 February 6 has always been an important date in New Zealand's short history. On that day in 1840 a treaty was signed at Waitangi between the indigenous Maori people and the British crown.
Over the many decades since, the Treaty of Waitangi has been a discussion point and Waitangi Day -- a national holiday -- was, especially in the fractious Nineties and beyond, a flashpoint for Maori activists and others who demanded the Treaty be acknowledged.
By coincidence, February 6 was also Bob Marley's birthday and for many years -- as the commemorations at Waitangi became the focus of protest -- many prefered to use the day to celebrate Marley's message of unity.
In recent years however the events at Waitangi have seemed more harmonious, and there are fewer and fewer Marley events, a drop in number from the big reggae festivals of the past.
But Waitangi can still be an unpredictable hot spot.
Which is why From the Vaults brings back this song by Moana. The message is clear and simple, for those not too deaf to hear.
"Treaty won't go away".
For more oddities, one-offs or songs with an interesting backstory use the RSS feed for daily updates, and check the massive back-catalogue at From the Vaults.