Graham Reid | | <1 min read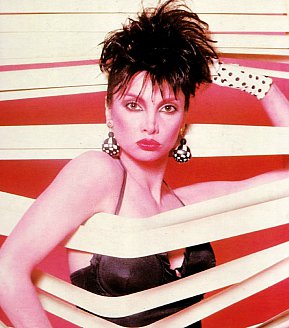 Is there a more annoying song than Toni Basil's inanely catchy Mickey ("Oh Mickey you're so fine . . . hey Mickey" etc)?
It's the kind of song you wake up with banging around inside your head and you spend the rest of the day wondering what you did in a previous lifetime to deserve such hellish punishment.
It is in there with Racey's Some Girls ("some girls will, some girls won't").
Apparently inspired by Mickey Dolenz of the Monkees, it singlehandedly invented cheerleader-pop . . . and is more than a little salacious when you pay attention.
You'd think such repetitive pop would be easy to write and that Basil -- who was one of the naked and out-of-it girls in Easy Rider and later a pop choreographer of some note -- would find repeated chart success with the formula.
But after Mickey that was it for her and Nobody, a sort of photocopy rewrite of Mickey in many ways, didn't even make the top 50 in Britain where she'd previously had a number one with that damnable song.
So be warned, watching the clip below could put you in a foul mood come morning.
But will you remember Nobody? Nobody does.
For more oddities, one-offs or songs with an interesting backstory use the RSS feed for daily updates, and check the massive back-catalogue at From the Vaults.