Graham Reid | | 1 min read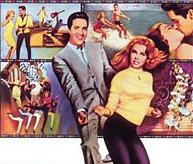 Elvis Presley's catalogue of songs in the Sixties is pretty scattershot. Sessions would often be very productive (the material was hardly demanding) and so the songs would be drip-fed over a period of years with no real sense of chronology.
But this was a strange one.
Originally recorded for the film Viva Las Vegas, the song wasn't included on the tie-in EP (which incidentally didn't include Viva Las Vegas!) and it - along with Night Life, a medley of Yellow Rose of Texas and The Eyes of Texas -- was held over and appeared on the B-side of an album called Elvis Sings Flaming Star six years later.
But that was even more confusing.
The film Flaming Star had come out in 1960 and that theme opened the album.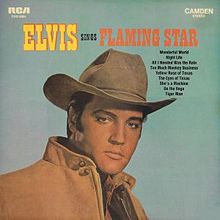 It was cobbled together album of film songs and left-overs and feels it -- and it was originally only sold in selected stores which stocked Singer sewing machines (Singer was sponsoring his Christmas television special later that year).
Then later it was given mainstream release.
But it was so successful despite that, that other Elvis albums started to appear along similar lines and with similarly short running times.
Sings Flaming Star clocked in at about 22 minutes. That's both sides.
Still, would your life be any poorer for never having heard Do the Vega written by Bernie Baum, one of the many jobbing songwriter who was churning out such throwaways for Elvis movies?
The big question is: Was there ever a dance called The Vega?
.
For more oddities, one-offs or songs with an interesting backstory check the massive back-catalogue at From the Vaults.