Graham Reid | | <1 min read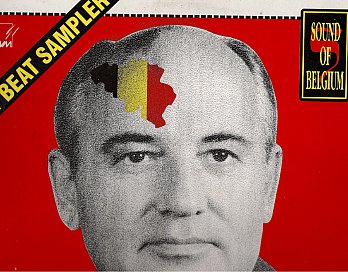 Odd what turns up in a record collection left in my care. While moving a few boxes of old vinyl I found a swag of stuff my oldest son had left behind when he lit out for Over Seas.
He has strange and eclectic taste. A Joey Travolta album alongside obscure Elvis, David Hasselhoff recorded in Auckland, classical albums, Thriller, BBC sound effects records . . .
And this album which is a collection of Eighties dance music out of Belgium. It was stripped back and called Belgium Beat (later New Beat) and apparently had its origins in 45s played at 33rpm. It then emerged out of various studios in Belgium and over time included acid house and techno.
This track by Bassline Boys -- essentially Fabian Van Messen and Marc Neuttiens -- was one of the great club anthems to come out of the Shiva Studios.
Not often you can get the kids moving to Winston Churchill and Adolf Hitler, is it?
Although come to think of it there was the Hitler Youth so . . .
But isn't clip just a little worrying? How far do you take irony?
For more oddities, one-offs or songs with an interesting backstory use the RSS feed for daily updates, and check the massive back-catalogue at From the Vaults.