Graham Reid | | 1 min read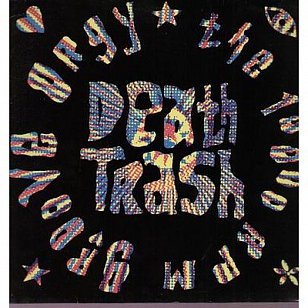 For their 1988 album The 10000 RPM Groove Orgy, the band Death Trash didn't hide their ethic. Tracks include Liquor Whore, Sexbeast, Now I Wanna Make Some Noise, Mind Trashed and Loaded, True and Wild, and Death Trash Rock and Roll.
We get the picture . . . .and if somehow you didn't then the album was "dedicated to the disciples of sleaze everywhere".
Recorded in Sheffield and on their own Pig's Ear label, this was the only album from the three-piece who also seem to have been big in Germany.
I know nothing about them -- they are Murray, Justin Underhill and Garry Wilson which don't sound German to me -- but they certainly took themselves seriously and churn through these songs which come perilously close to Spinal Tap in places.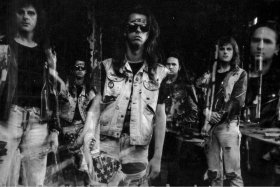 Queen of the Night opens with these Tap-like lyrics: "Draped in sweat and leather and stinkin' like a pussy farm, sleazed-out sex bomb lover, one night with me won't do you no harm . . . ."
The word "sleaze" appears fairly frequently and their influences would seem to be Motorhead and . . .
We get the picture.
But given they went to the trouble to record this, let us offer them a second life From the Vaults with their anthemic raison d'etre.
By the way if you are keen, there are plenty -- plenty -- of copies available on various websites. Cheap too.
Funny that.
For more oddities, one-offs or songs with an interesting backstory use the RSS feed for daily updates, and check the massive back-catalogue at From the Vaults.