Graham Reid | | <1 min read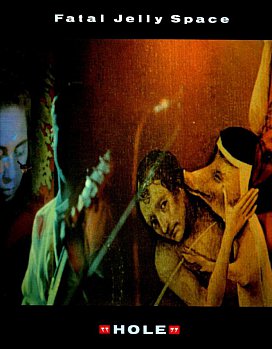 Although they had a band name which wouldn't have disgraced a prog-rock outfit of the Seventies, Auckland's Fatal Jelly Space were rather far removed from lengthy noodling.
They were an all-woman five-piece co-fronted by the wonderful Frankie who -- although tattooed and with a shaven head -- was far from a ferocious personality off-stage.
But they delivered an abrasive confrontation live and played on bills alongside the equally visceral-punch bands like SPUD, NRA, Sticky Filth and Second Child.
They only ever released one EP on Flying Nun -- Hole, engineered by Rex Visible and Matthew Heine, co-produced with Visible in The Lab -- and the songs were Death Fuck Pop, Moonlit Track, Miseriah and Aliens.
Copies are very hard to find and as with Cake Kitchen, the Victor Dimisich Band, Wreck Small Speakers on Expensive Stereos and others, FJS are part of a somewhat forgotten history of the label.
So it is with pleasure we dust these grooves and drop the needle on another From the Vaults, which comes with appealing surface noise.
Oddly enough this track starts a bit . . . prog?
For more oddities, one-offs or songs with an interesting backstory use the RSS feed for daily updates, and check the massive back-catalogue at From the Vaults.