Graham Reid | | <1 min read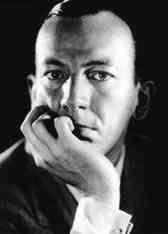 Ahhh . . . because we can?
Noel Coward (1899-1973) stamped his personality on an almost forgotten era and he was a polymath who whose work spanned theatre (as an actor and playwright) as well as being a witty songwriter whose lyrics were was often identifiable by their rapier wit.
His songs however were usually so singular that few could convincingly cover them.
And so it is to Coward himself you must go to hear -- in a song like this -- how he could skewer the colonial culture which he also enjoyed immensely, especially with a drink in his hand.
Some of it might sit a little uncomfortably these days (the word "natives" sounds pejorative to contemporary ears, and the reference to them being "simple creatures" does have a strange ring to it) but his target is indeed the Englishmen of the title.
It's also something to remember if you are traveling in "the mystic East"
For more oddities, one-offs or songs with an interesting backstory use the RSS feed for daily updates, and check the massive back-catalogue at From the Vaults.