Graham Reid | | 1 min read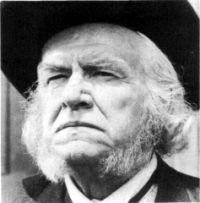 Will Geer (born William Ghere) enjoyed quite a remarkable acting career but was perhaps best, and possibly only, known by many for his role as Grandpa in the popular television series The Waltons.
When he died in '78 his passing was written into the series -- and only when the tributes flowed and the obituaries were written did many fans of that show realise the kindly old actor was gay, had been blacklisted as a subversive when he refused to testify before the House Committee on Un-American Activities in the Fifties, had been a close friend of Burl Ives and Woody Guthrie (people sang Guthrie's This Land is Your Land at his funeral) and that he and Guthrie had recorded together.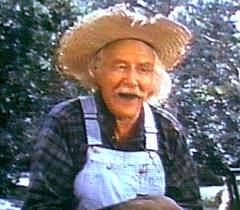 Grandpa Walton was a card-carryin' activist involved in workers' rights -- and Geer still found time to act in dozens of Westerns, play alongside Robert Redford in the exceptional Jeremiah Johnson and appear on shows like The Love Boat and Eight is Enough.
Quite a life, quite a man.
Geer met Guthrie in California in the late Thirties and encouraged him to move to New York. He would later introduce Guthrie to Pete Seeger. It was after Alan Lomax saw Guthrie sing at one of Geer's "Grapes of Wrath" evenings in 1940 that he decided to record him.
So Will Geer was instrumental in getting Guthrie's voice into mainstream American thinking. And he's still there, as witnessed by the recent New Multitudes album with Jay Farrar, Jim James, Anders Parker and Wil Johnson.
Yep, quite a man.
This is Geer reading what we might call a statement of intent by Guthrie and it appeared on the album Bound for Glory on the Folkways label.
For more oddities, one-offs or songs with an interesting backstory use the RSS feed for daily updates, and check the massive back-catalogue at From the Vaults.