Graham Reid | | 1 min read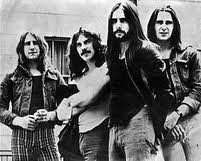 For the past 40+ years, Status Quo have been a heads-down boogie band in denims and "rockin' all over the world".
So it's hardly surprising people would know them for nothing more than that enjoyably reductive style.
However . . .
For a few years in the late Sixties the original band (with the inevitable line-up changes) flirted with trippy hippie rock of the psychedelic kind . . . and endured a few name changes.
In a story worthy of Spinal Tap, they were the Spectres, then Traffic, the Traffic Jam (when the other Traffic emerged), then The Status Quo and finally Status Quo.
They enjoyed a decent sized hit with Pictures of Matchstick Men in '68 but a couple of subsequent singles didn't exactly consolidate their reputation and when their second album Spare Parts didn't ignite much interest they did a right turn into boogie rock which became their forte.
On the flipside of one of those singles Ice in the Sun was the first writing collaboration between Francis Rossi (then Mke Rossi) and new guitarist Ricky Parfitt (now Rick), the team which is still active.
You can hear in the opening moments some cop from Pictures of Matchstick Men (and later) and then it goes a little hippie with talk of reality, my mind etc. All the cliches.
And if anyone can deal in cliches it is Status Quo, right?
For more oddities, one-offs or songs with an interesting backstory use the RSS feed for daily updates, and check the massive back-catalogue at From the Vaults.