Graham Reid | | 1 min read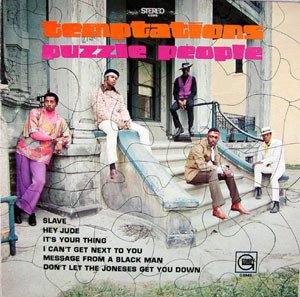 In its early days Motown didn't directly address political issues -- although there's a good case to be made that its very existence and popular success was, like rock'n'roll of the Fifties, a political act in itself.
But as the decade rolled on and young black men were either being shipped off to Vietnam or getting edgy in the streets back home, it was hard to ignore the rise of the Black Panthers and similar revolutionary movements.
For their Puzzle People album, The Temptations took on this Norman Whitfield-Barrett Strong lyric which left you in no doubt about where they stood: "Black is a colour, just like white . . . No matter how hard you try, you can't stop me now".
"Say it loud . . . I'm black and I'm proud" they sang, quoting James Brown's hit of the previous year.
Unlike many other Motown acts, the Temptations were also increasingly attuned to the psychedelic sounds and the following year released their Psychedelic Shack album whch contained their classic song War alongside the funky wah-wah driven title track (both Whitfield-Strong compositions).
Around the same time they recorded Ball of Confusion ("the only people talkin' 'bout love is the preacher") and yes, that too was a Whitfield-Strong song.
The Temptations might have taken those key Motown elements of gospel from the church and doo-wop from the corner back in their early days, but by the late Sixties they were getting back on the street and looking their more mature and righteously angry audience in the eye.
Curiously though, even though they recorded it and brought an authentic militancy into play, they wouldn't perform Message From a Black Man live and the People Puzzle album came out the same day as a softer duets album with Diana Ross and the Supremes.
Seems the Temps were just as confused as anyone at the time.
For more oddities, one-offs or songs with an interesting backstory use the RSS feed for daily updates, and check the massive back-catalogue at From the Vaults.