Graham Reid | | <1 min read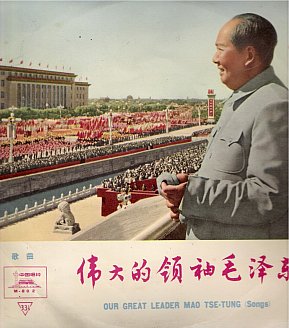 While there is doubtless some historic or artistic merit in many of tracks posted at From the Vaults, sometimes we pick them just because we can.
There may well be artistic merit of some kind in this song and there is certainly historic significance. Whether that's enough to make anyone want to listen is another matter.
Yes, the old record is scratchy and yes, Chinese sopranos can be an acquired taste. But this has historic resonance.
It is lifted from the 10" album Our Great Leader Mao Tse-Tung (manufactured by the China Record Company, there probably was only one in China at the time) and the track listing tells its own story.
It includes the following aside from the title track: A Song for Chairman Mao, Chairman Mao is With Us, Chairman Mao Scales the Peak of Lushan, The Helmseman Sets the Ocean Course, Long Live Chairman Mao, Chairman Mao's Thought is Incomparably Bright, Chairman Mao is Dearer to Us Than Our Parents, Chairman Mao You Are the Red Sun in the Hearts of the World's People . . .
You get the picture.
We post this just because we can.
For more oddities, one-offs or songs with an interesting backstory use the RSS feed for daily updates, and check the massive back-catalogue at From the Vaults.