Graham Reid | | <1 min read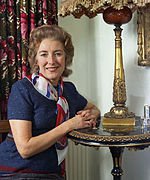 Although knows as "the Forces' Sweeheart" for her songs during the Second World War, the great Vera Lynn -- who died in 2020 at age 103 -- subsequently had a successful career with hits in the Fifties and Sixties (although her Rock'n'Roll Party Hits album might not have been the strongest of ideas).
In 1970 she released the album Hits of the 60's: My Way and although you might have expected she'd cover the Beatles, Stones, Kinks etc she erred to the more easy listening and orchestrated end of that decade.
She covered Yesterday, Strangers in the Night, Jimmy Webb's By the Time I Get to Phoenix and the Bacharach-David hit The Look Of Love.
And this version of Fred Neil's popular song which Harry Nilsson had a hit with as the theme to Midnight Cowboy.
Somehow, you don't really think of the Force's Sweetheart sitting down with tea and cake and and watching Midnight Cowboy.
.
For more oddities, one-offs or songs with an interesting backstory check the massive back-catalogue at From the Vaults.