Graham Reid | | 1 min read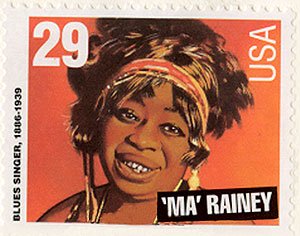 Few would have described Ma Rainey (1886 - 1939) as one of God's finest creations. Her pianist Thomas A. Dorsey said charitably "I couldn't say that she was a good looking woman".
In Francis Davis' The History of the Blues; the Roots, the Music, the People from Charlie Patton to Robert Cray he writes, "everyone else who knew Ma Rainey described her as pug ugly, a short and stubby woman with a big rear end and broad features that didn't quite match . . . she was also quite dark, a black black woman". (His emphasis).
And the corollary of that is she could never emulate white standards of feminine beauty at the time (as many black women singer did), which might be why she just didn't give a damn. She was notoriously promiscuous (men and women it was said) and, like a magpie, was attracted to pretty bright things (sequins and pearls) so cut quite a figure on stage.
Often described as the Mother of the Blues (hence the "Ma"), she actually came out of the vaudevile tradition as an entertainer who carried her own props and had enjoyed a long and itinerant career before she first recorded in 1923.
Which means her recordings actually missed her in her prime. We can but imagine.
But she posssessed what we now consider a classic blues voice and although within a decade or so most women started to be written out of the history of the blues as male cotton-plantation guitar moaners were recorded and "discovered", Ma Rainey is someone we might still turn to in order to hear a voice from a time we can never know let alone understand.
She was assertive as in this song, men/women were low down creatures and treat their women wrong ("like a hound") and her committment is unwavering.
In her final years she embraced the Lord and after her death of a heart attack in Georgia, Memphis Minnie recorded a tribute, in the last verse of which she sings, "people sure look lonesome since Ma Rainey been gone".
She's a long time gone now, but being lonesome and disappointed in lovers hasn't changed . . . and nor has her timeless sound.
For more oddities, one-offs or songs with an interesting backstory use the RSS feed for daily updates, and check the massive back-catalogue at From the Vaults.