Graham Reid | | 1 min read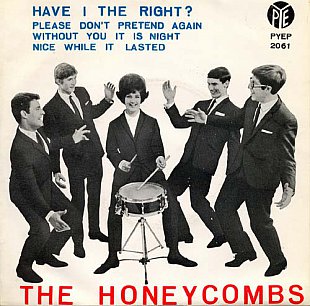 In the Beatpop boom which followed the Beatles, there were any number of great one-off hits (Concrete and Clay by Unit 4 Plus Two, and Wake Up My Mind by the Ugly's spring to mind).
But few had less a one-off success and promise unfulfilled than the Honeycombs.
Their simplistic but energetic Have I the Right was no less interesting -- better in fact -- than the tub-thumpy pop of the Dave Clark Five who went on to score one hit after another and became (improbably) successful in the States.
But the Honeycombs -- who looked like the Shadows with a brunette-bouffante Dusty Springfield (Honey Lantree) on drums -- should have gone much further on the strength of this great single . . . and the equally good Please Don't Pretend Again on the flipside co-written by Telstar producer Joe Meek who recorded Have I The Right in his home where he'd cut Telstar.
Oddly enough, their momentum was lost on subsequent singles when it should have picked up with That's the Way produced by Meek, who clearly misread their driving pop potential.
Singer Dennis D'Ell had a classic Sixties voice with just enough brusqueness to get him over the hump from pop to rock, if they had lasted another three years.
And Colour Slide on the flipside of That's the Way (also penned by the Howard-Blaikley hit-writing team who gifted them Have I The Right, as well as songs for Dave Dee etc, Lulu and the Herd) could have/should have taken them to greater heights.
But between '64 and '66 the world was awash with great pop songs from Britain, and then the US who fought back brilliantly via the Byrds, the Turtles, Bob Dylan, Paul Revere et al.
Interestingly, one of the last serious outings for the Honeycombs was a song produced and written by Meek, Nice While It Lasted which starts, "it was good while it lasted, and you took all you wanted it, now forget, it was good while it lasted, wasn't it?"
Maybe it was. But it didn't last.
And it shoulda been gooder.
.
For more oddities, one-offs or songs with an interesting backstory check the massive back-catalogue at From the Vaults.