Graham Reid | | <1 min read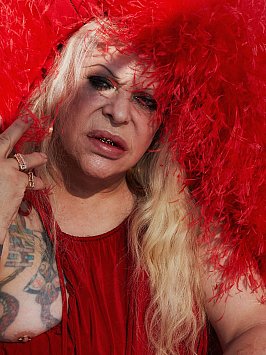 This post-punk British experimental/psychedelic/industrial outfit helmed by the late Genesis P. Orridge -- who died on March 14 -- once released more albums in a year than the Beatles did in their whole career.
They were productive, worked under numerous disc pseudonyms and were still - in some form or other -- going until recently.
Given the edgy nature of much of their material, it is perhaps surprising to find them covering a delicate Neil Young song like Only Love Can Break Your Heart. But this appeared -- alongside Young covers by Dinosaur Jr, the Pixies, Nick Cave, Flaming Lips and others - on the '89 album The Bridge: A Tribute to Neil Young.
Any one of those other bands' treatments of Young songs might equally have appeared here (and one day may), but this was chosen because it is so unexpected from Psychic TV, and it also is rather good.
Sort of faithful to the sound and sentiment, but also sort of not.
For more oddities, one-offs or songs with an interesting backstory use the RSS feed for daily updates, and check the massive back-catalogue at From the Vaults.