Graham Reid | | <1 min read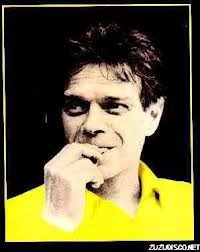 French writer/arranger and producer Vannier has worked with anyone who counts in his home country (Gainsbourg, Francoise Hardy, Juliette Greco, jazz pianist Martial Solal etc) as well as Astor Piazzolla, American pop writer Mort Shuman and many others.
His trippy and conceptual sonic journey album L'enfant assassin des mouches in '73, from which this track comes, was reissued in 2005 and the likes of Jarvis Cocker, David Holmes and many others lined up to pay tribute to it.
Vannier then played it live in London with Cocker, the Bad Seeds' Mick Harvey and others, and added to the programme Gainsbourg's Melody Nelson which he'd also famously arranged.
This particular piece shows the influence of Indian and North African music but elsewhere on the album were sirens, sound effects, quirky trumpets and percussion, wah-wah guitars, jazz piano and such.
Quite a trip.
For more oddities, one-offs or songs with an interesting backstory use the RSS feed for daily updates, and check the massive back-catalogue at From the Vaults.