Graham Reid | | <1 min read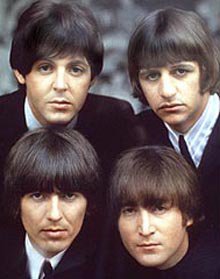 The Beatles' b-sides were always worth hearing and Yes It Is -- a gloomy piece from an otherwise upbeat pop band and on the flipside of Ticket to Ride -- was a venture into the close harmony dark side they'd explored in Baby's in Black on their previous album Beatles for Sale.
It was a melancholy side of Lennon and McCartney's increasingly mature writing which would emerge more fully on Lennon's Help! and McCartney's Yesterday on the next album, the soundtrack to the movie Help! . . . about which we must remind ourselves that Yesterday was buried away towards the end of the second side.
But Yes It Is was recorded in the same sessions and was notable also for George Harrison's use of the tone pedal to get that fade-in sound as much as the harmony vocals.
But in this take, Lennon's guide vocal as the others worked out their parts, you can hear a very profound melancholy in his cracked singing . . . right up until he makes up some gibberish and then the song takes on its own life when it is merged with a later take.
For more one-offs, oddities or songs with an interesting back-story see From the Vaults.