Graham Reid | | 1 min read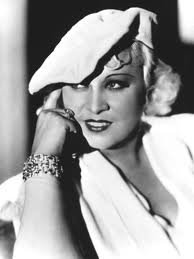 Hard to believe from this distance, but Mae West -- who was born in 1893 and lived long enough to be in a movie with Ringo Starr, Keith Moon and Alice Cooper (the forgettable Sextette in '78, released two years before her death) -- was once a young woman.
Those who came to her career late just knew her as that blonde bombshell old lady who had been famous for her one liners. Among them: "Good sex is like good bridge. If you don't have a good partner you better have a good hand"; "Good girls go to heaven, bad girls go everywhere" and "Those who are easily shocked should be shocked more often".
Zingers every one, and she had dozens of 'em.
In '33 she starred in She Done Him Wrong set in the bawdy 1890s alongside Cary Grant -- she as a risque nightclub singer working for a guy who runs a prostitution ring, he as the director of an inner city mission but actually an undercover FBI agent.
It's the film where she says "why don't you come up and see me" . . . although she used the line again -- adding "sometime" -- for another film with Grant that same year, I'm No Angel.
She Done Him Wrong was a massive box office success. It was her second film in two years and the one that really kick-started her career -- and positioned her as the blonde temptress she came to be known as.
Femme fatale, in the vanguard of sexual liberation or just plain innuendo-laden cliche, it didn't matter.
Mae West was a one-off.
.
For more oddities, one-offs or songs with an interesting backstory check the massive back-catalogue at From the Vaults.