Graham Reid | | 1 min read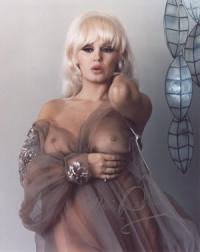 Mamie Van Doren's not inconsiderable assets -- big breasts, bleached blonde hair and a breathy speaking style -- served her well for a career in cinema and self-promotion when she emerged as a kind of second-tier Marilyn Munroe in the Fiftes.
She, of course, always denied being a mere copyist ("I have never been a Marilyn Munroe wannabe, I have always been happy in my own skin") and there's a bit of evidence to support that.
Where Munroe went for an intellectual and sophisticated kind of sexiness, Van Doren was happy to muck in with the rock'n'roll of the Fifties and famously took her two visible assets into films like Untamed Youth (1957 which had Eddie Cochran in a minor role), and High School Confidential ('58 with Jerry Lee Lewis in a cameo).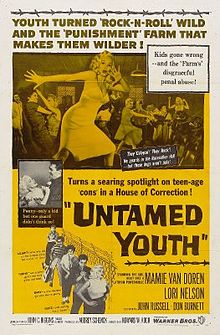 She got down with beatnik culture in The Beat Generation ('59) and wild teens (Girls Town) and along the way cut dozens of songs, a number of them collected on the mid-Eighties Rhino compilation "The Girl Who Invented Rock'n'Roll" which took it's title from one of her songs.
Well, she didn't but . . .
Among her songs -- few of them memorable, some pretty awful as in the clip below -- were Bikini With No Top On The Top (gee, you rekkin?), Lifetime of Love and this slightly salacious piece from the film Born Reckless. . . which seems to be about, shall we say, taking one for the team.
And, typically, Van Doren -- still around today, still platinum blonde -- does not sound reluctant to step up for the task.
For more oddities, one-offs or songs with an interesting backstory use the RSS feed for daily updates, and check the massive back-catalogue at From the Vaults.