Graham Reid | | <1 min read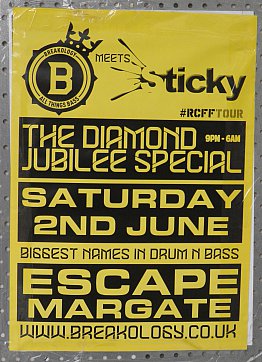 One of the more confusing and alarming posters I saw in Britain in 2012 was on a wall in Dover. It was this one, a DJ celebration of the Queen's Diamond Jubilee -- and given the massive unemployment and fragile economic conditions, I couldn't help but reflect on that earlier Jubilee year when the young people of Britain (a significant number anyway) exploded with rage about the banners and bunting.
If you were young you had nothing to celebrate, there was "no future" as Johnny Rotten spat out on God Save the Queen.
Ah well, different and perhaps more complacent times. Who knows?
It just struck me that a night of dance and celebrating the monarchy -- especially in Dover which didn't seem to be bright and bustling, on the contrary -- was an anachronism.
But then again, in 2002 Neil Barnes -- with permission -- delivered this nine minute remix of the Pistol's classic song of rage and bile.
I wonder if they played at the Escape (hmmm) in Margate on the night?
For more one-offs, oddities or songs with an interesting backstory see From the Vaults.