Graham Reid | | 1 min read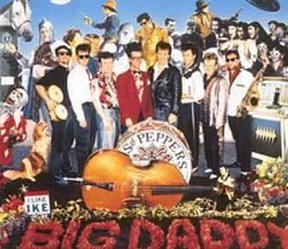 Although it's not hard to find truly awful versions of Beatles' songs -- many are collected by Jim Phelan for his Exotic Beatles series of albums -- and a decent number of rather excellent treatments, there aren't that many which are just plain fun.
Big Daddy are a retro group which made a reputation by taking contempoary songs and recasting them as doo-wop, Fifties rock'n'roll and so on.
Under another guise they appeared as the Bendedrine Monks of Santo Domonico at a time when medieval chants were rather popular. Their contribution was songs like the theme to The Monkees ("hey hey we're the monks" sung as a Gregorian chant) but their most most ambitious and fun outing as Big Daddy was the whole of the Beatles' Sgt Pepper album done in pre-Beatle style.
So With a Little Help From My Friends was a crooned piece like Paul Anka, Getting Better owed a nod to Jerry Lee Lewis, Getting Better was a doo-wop swinger with sax and might have fitted into the Grease soundtrack, Within You Without You was delivered as a cool Beat poem with jazzy flute . . .
This version the Beatles' seminal Day in the Life is rather obvious (Lennon's "oh boy" immediately suggests Buddy Holly) but here it is . . . and stick around for how they deal with crescendo.
It's fun, but sightly twisted.
For more oddities, one-offs or songs with an interesting backstory use the RSS feed for daily updates, and check the massive back-catalogue at From the Vaults.